Artificial Intelligence (AI)is central to our new reality. Its broad use is increasingly influencing various aspects of our lives and is transforming our societies. This influence may be both beneficial and harmful. 

The implication here is that AI will massively enhance the possibilities for analyzing and steering public discourses and/or intensify the automated compartmentalizing of intent information. The argument goes that the strengths of today's AI applications lie in the ability to observe and analyze enormous amounts of communication and information in real-time, detect patterns, and allow for instant and often invisible reactions. In a world of communicative abundance, automated content moderation is a necessity, and commercial as well as political pressures further effectuate those digital tools created to oversee and intervene in communication streams. 

Control possibilities are distributed between users, moderators, platforms, commercial actors, and states, but all these developments push toward automation. Therefore, AI is baked into the backend of all communications and becomes a subtle, yet enormously powerful, structuring force.
Book and Podcast suggestions from the Panelists:
Max Temark - Life 3.0
Sean Carroll - Something Deeply Hidden
Michael Kanaan - T-Minus AI
Gerald Huff - Crisis 2038: A Novel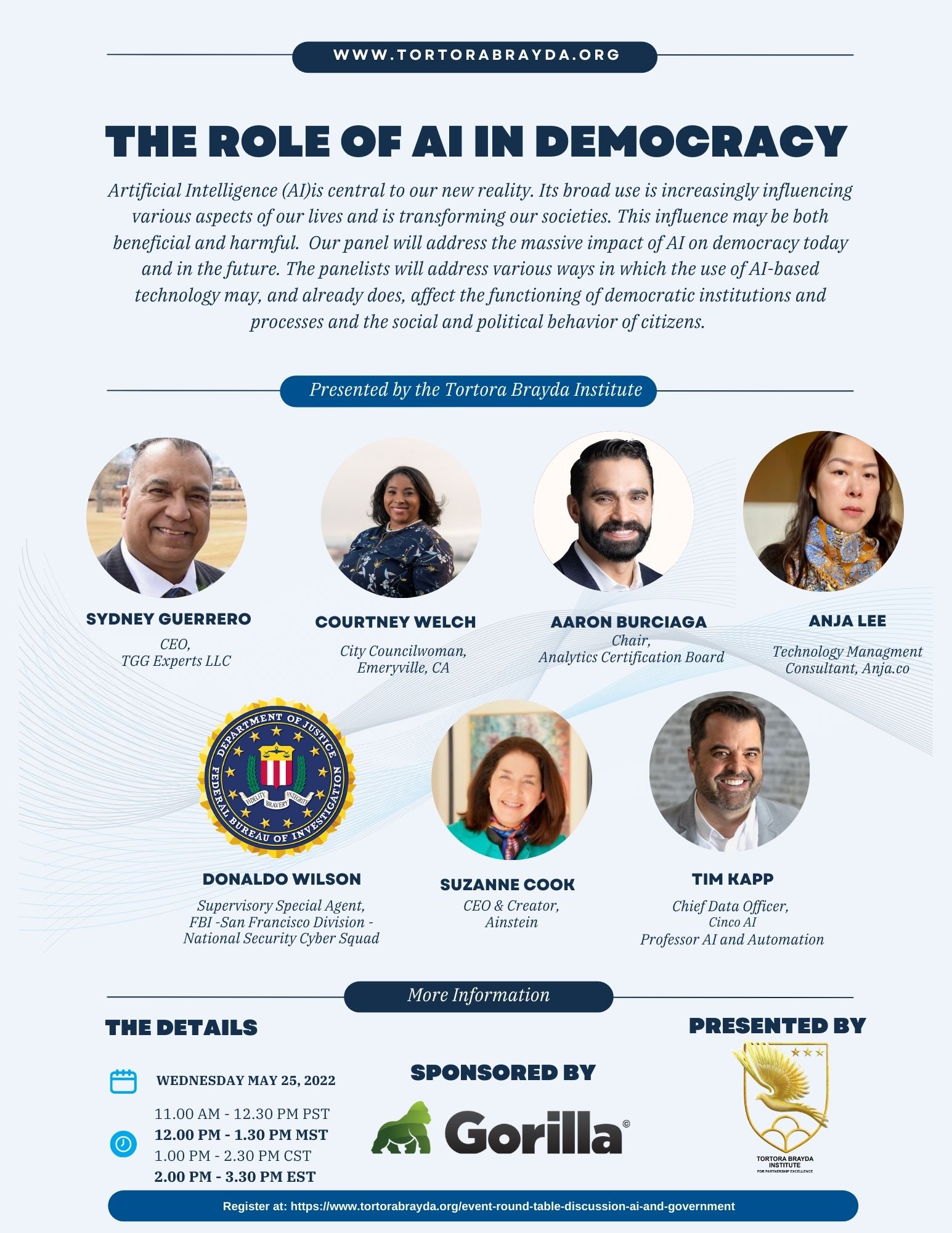 MODERATOR AND PANELISTS:
 
MODERATOR
Sydney Guerrero 
Mr. Guerrero is an Investor and entrepreneur with over 30 Years of Experience in Executive Leadership, Technology, and mergers and acquisition. He is the CEO of TGG Experts providing fractional C-Suite Strategy Advisory & Consultancy, Sydney and his team excel in helping companies grow and scale their businesses, managing turnaround situations, building, mentoring, & developing high performance-based sales culture leading teams delivering consistently year-over-year revenue growth and profit objectives. His consultancy includes organizational development as Chief Operating Officer for Pistis.io and Strategic & Visionary Insight as Vice President for Business Development for Orion Innovation. He has helped launch new market solution verticals across his career in Blockchain, cybersecurity, AI/ML, and Professional Services domestically and globally for industry leaders such as Dell and HP.
PANELISTS
 Aaron Burciaga 
Aaron Burciaga is a renowned Data Scientist, AI Engineer, author, and Advisor. As a seasoned technology and business leader in both startup and enterprise settings, he has focused his career on delivering efficiency and value through automation, data science, machine learning, Artificial Intelligence, blockchain, quantum computing, and emerging concepts and innovative technologies. Aaron is the Chair of the Analytics Certification Board. His roles have included VP, CTO, and Practice Director of Fortune 500s and co-founder of data and technology startups. Aaron is a Forbes contributor, frequently invited keynote and speaker, and Certified Analytics Professional (CAP). He is an appointed member of the U.S. Department of Commerce's National Technology Information Service (NTIS) advisory board. Aaron received his M.S. Operations Research from the Naval Postgraduate School and his B.S. from the US Naval Academy.
Suzanne Cook 
Mrs. Cook is a technology entrepreneur, research expert, and Wharton graduate with extensive and varied Wall Street experience. A seven-time Institutional Investor All-Star Analyst, she has fulfilled multiple executive-level roles advising investor clients and providing investment banking, mergers & acquisitions, IPOs, and corporate advisory work at First Boston, Merrill Lynch, and Wasserstein Perella. Mrs. Cook anticipates a new golden era of Research thanks to the trifecta of (1) Cloud - cheaper and more accessible computing, (2) Scale Analytics - unifying vastly expanded data sets, and (3) Autonomous pattern recognition via Artificial Intelligence.
Tim Kapp
Tim Kapp is a recognized professional and educator in the field of Artificial Intelligence, Predictive Analytics, and Automation. He specializes in the application of machine learning to revenue operations (RevOps) to bring about rapid transformational change. Tim has spent more than 20 years working with companies driven by subscription and recurring revenue including Disney (NYSE:DIS), Blizzard Entertainment (NASDAQ: ATVI), Publisher Arts, M1, Reed Elsevier (NYSE: RELX), Intercontinental Hotels Group (NYSE: IHG), Godaddy (NYSE: GDDY), Macmillan, and Nanoheal. His cross-functional experience in quantitative analysis, marketing, and finance gives him a unique perspective on how to align corporate teams around a disruptive data strategy and connect performance across organizational silos. Tim is the co-founder of Cinco.ai and a partner at Advantary (San Francisco) and Kereon Intelligence (France). He is also an Adjunct Professor at the University of Utah, where he teaches Machine Learning.
Anja Lee
Anja Lee dedicated her career as a data professional, building data technologies and software for the gaming, finance, adtech, and neuroscience research industries. She has an MS in CS from New York University-Courant Institute and is a certified and practicing Executive Coach from UC Berkeley.
Courtney Welch
Courtney Welch is an East Bay native, experienced civic leader, proud mother of two, and member of the Emeryville City Council. Courtney works as the Director of Planning and Investigations for the California Renters Legal Advocacy and Education Fund and performs government affairs and housing programs consulting in Alameda County. In addition to her council position, she serves as chair of the Alameda County Housing and Community Development Advisory Board and is a commissioner for the Alameda County Commission on the Status of Women.
Donaldo Wilson
SSA Donaldo Wilson supervises a national security cyber squad in the San Francisco Division. SSA Wilson has eighteen years of national security and criminal cyber experience. SA Wilson's professional certifications include specialized FBI Cyber training, the ISC2 CISSP and GIAC certifications in digital forensics, firewall analysis, network penetration, wireless networking auditing, and computer incident response. SSA Wilson's past assignments include FBI Sacramento, FBIHQ, and US Embassy Belgrade, where he supervised and coordinated US cyber investigative programs nationally and in Serbia, Bosnia, Kosovo, and Montenegro. SSA Wilson earned a BS in Electrical Engineering and Computer Sciences from UC Berkeley and is also a licensed California Professional Engineer (CE).
https://www.fbi.gov/contact-us/field-offices/sanfrancisco